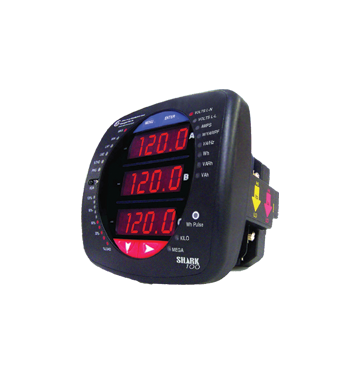 Shark 100
A family of multifunctional power/energy meters with a wide-range of options. The Shark 100 models offer a variety of measurement options and communications.
RECOMMENDED FOR

Multiple applications

AVAILABILITY

On request
CONTACT US
Electro Industries/GaugeTech introduces industry leading metering technology. Designed to address the most demanding applications, the Shark 100 surpasses others providing advanced performance metering in a low cost, compact, panel meter design. Based on an all new platform, this meter significantly outperforms other devices many times its price. This unit is perfect for new metering applications and for a simple replacement to existing analog meters.
The unit utilizes high speed DSP technology with high resolution A/D conversion to provide revenue certifiable accuracy for Utility Billing, Substation Metering, Submetering and Critical Metering applications. The meter uses 24-bit analog-to-digital conversion sampling at 400+ samples per cycle, providing high accuracy throughtout the measurement range.