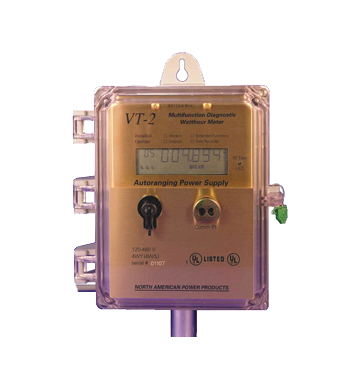 VT-2
The VT-2 is housed in a NEMA 4X Enclosure, designed to meet all Commercial and Industrial applications. The VT-2 can be configured for multifunctional tasks used for revenue billing, energy management, or check metering.
RECOMMENDED FOR

Multiple applications

AVAILABILITY

On request
CONTACT US
The VT-2 is a solid state multifunction watt-hour meter capable of displaying kWh, Demand, Time of Use, and kVA or kVAR readings. Data is displayed on a liquid crystal display (LCD) along with potential indicators and consumption annunicators.
Autoranging Power Supply, 120-600 volts
Extensive Installation Diagnostics that will detect an inverted Current Transformer or Cross Phasing of the wiring. Nema 4X Enclosure.
Certified 0.2% accuracy at all voltages.
No Multipliers are EVER required.
Available Products:
VT2-4000 Energy Meters (kWh Only)
VT2-4100 Energy and Demand Meters (kWh & kW)
VT2-4200 Energy, Demand, and Time of Use
VT2-4300 Energy, Demand, Time of Use, and KVAR or kVA
VT2-4400 Energy, Demand, Time of Use, and Data Recorder
VT2-4500 Energy, Demand, Time of Use, kVAR or kVA & Data Recorder